You don't have to panic about how you are going to start with your resume. This article will guide you through the process of creating the right Architectural resume.
A resume is a document that sums up your educational qualifications, skills, and experiences for an employer to decide if you are suitable for whichever position you are applying for. Unlike a CV (Curriculum vitae), a resume does not detail your educational qualifications but rather elaborates on your experience and necessary expertise for the job.
Importance of Architectural Resume
It is important that you keep in mind that this document is going to be your first impression of the employer. It must not be overwhelming or underplayed. Employers spend only a few seconds glancing through your resume. Especially for fresh Architecture graduates and students who lack experience, your resume should convince the employer to hire you.
Multinational companies use the ATS (Applicant Tracking System), an initial digital screening process, to filter out resumes worth HR's attention. Hence, you must give the right impression to prove yourself worthy of the job interview through your resume.
How do you start your Architectural Resume?
Making a job-specific resume starts by analyzing the job description and the company you are applying for. Note down the mandatory requirements, minimum eligibility like educational qualification, hard skills required like drafting, modeling, software, and tools, and soft skills like team management and communication skills, etc.
Brainstorm and write down all that you have done related to Architecture since starting college. Once everything is written, organize it into a timeline using a resume format. Decide on a theme or color palette for your resume. Design a basic resume layout and start adding your information in an orderly fashion. You can filter out what you think might not be of much value when you write it down in digital format.
Contents of a Resume
Header: The header must include your photograph, contact information (mobile number and email ID), Residential address, and a link to your Architectural portfolio.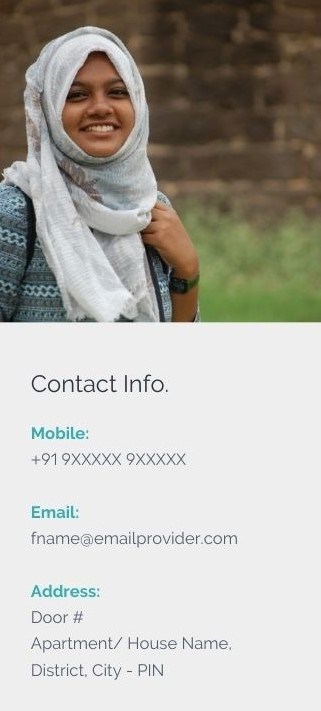 Resume Summary: You need to go through the job description in detail to identify the skills that employers are looking for in someone holding this position. Your summary needs to be written in a way that establishes a connection between your experience and the job you are applying for. The resume summary states what you can offer the company.
Work experience: Add what you consider your greatest achievement first, and state your contribution to each project you were a part of. These can include freelancing projects, internships, etc.

Educational Background – Your qualification needs to be mentioned in reverse chronological order. Mentioning your course and university of graduation is proof of meeting the minimum eligibility for your job application. If you graduated from university with a high GPA, adding that to your resume implies your academic capability. Professional architects can limit their education section to the level of degree, year and university graduated from. Add high school education only if it is relevant to Architecture.
Hard skills – Make sure your resume covers the skills your employer is looking for. Detail your software and technical skills.

Soft Skills – Your soft skills are what's going to land you in important facilitator and management roles. State your language proficiency in this section.
Extra information and accolades – Include noteworthy conferences attended, paper publications, Competitions attempted, and other recognitions.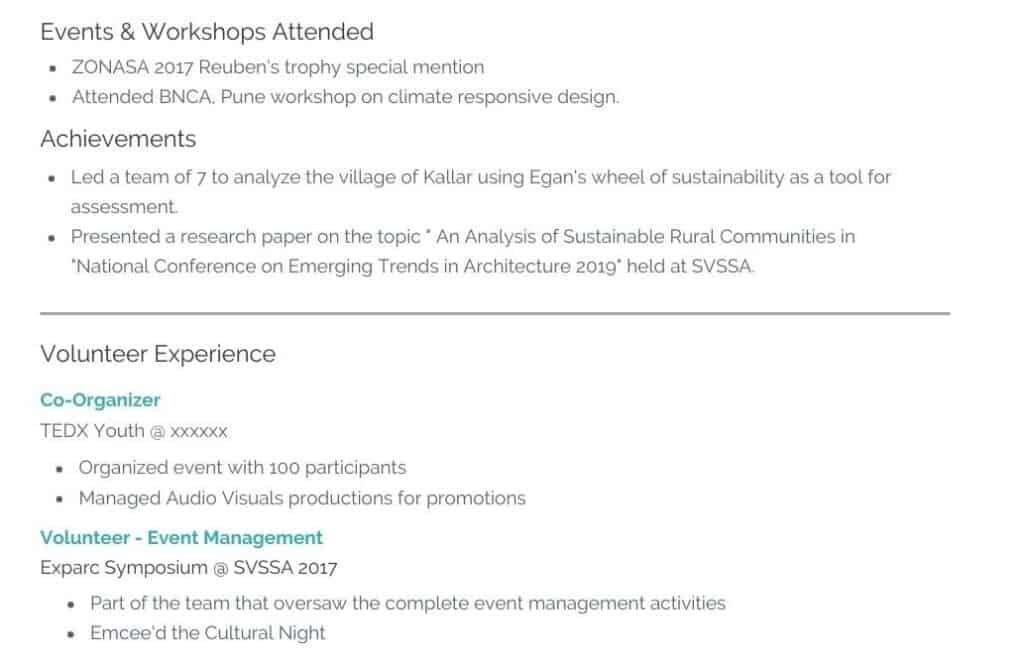 Links - Never forget to include a link to the digital copy of your Architectural portfolio. Also, add links to your social media handles if you have your works posted on your social media accounts.
How to structure your Architectural Resume?
You can follow a chronological, functional, or hybrid layout to structure your portfolio content.
Reverse Chronological – This resume format lists your most recent or most important work experience first going backward in time. This layout is widely used by professional Architects who are up in their game and have good work experience.
Functional – This layout puts more emphasis on your skills, qualifications, and achievements over your work experience.
Hybrid – Using the best elements of both layouts offers more flexibility. It can prove very useful for junior architects and students looking for Architectural internships.
Presentation and formatting
Being a designer yourself- how you visually present your resume is one the employer would take note of. Keep a minimalistic approach to your resume design.
Length – Keep your resumes as long as they should be, don't overload them with information that can bore the employer and at the same time don't leave out information that can be of any merit. Keep it concise and clean.
Theme - I would recommend following a color theme and layout to arrange the contents into different sections. Remember your resume needs to be legible and easy to read. Using white backgrounds and minimalistic layouts makes it easier for the reader to understand the different content in your portfolio.
Organize into sections - Use the white spaces efficiently to differentiate the different blocks of content. Don't go for long paragraphs that are difficult to comprehend, instead use bullet points.
Font - Keep your fonts and colors to not more than two. Go for font sizes between 11 and 12 for the main body while giving larger font sizes for titles and headings. Use single or 1.15 line spacing.
Size – A4 in portrait mode is mostly recommended for resumes. If you are going to attach your resume to your portfolio make sure it is the same size as the rest of your portfolio and is well composed within it.
Presentation layouts – Single-column layouts can contain only a little information on a single page. Most professionals and students go for double-column layouts these days, by pushing personal information and skills to one column and the rest for adding your experience. This layout is very effective where you can showcase your graphic design skills in how you differentiate your content from one another while keeping it legible.
Saving and printing – Save your resume in PDF format and not JPEG. PDFs are more legible and easy to read than viewing your resume as an image. Save your resumes into formats that ATS systems can read. Take a printout of your resume before sending them out to ensure no content is cut or removed when printed out.
What employer's value in Architectural resumes
Specific experience – Competition entries, conferences attended, participation in Architecture related events
Progress – Your progress over the years shows the employer that you are someone who works towards growth.
Relevancy – Tailor your resume based on each of your job requirements. Convince the employer that you are a candidate capable of meeting his requirements.
Software – Drafting, modeling, rendering, and presentation skills. Certain firms specializing in Parametric Architecture look for students and Architects well-versed in parametric software like Grasshopper. Analysis Knowing to use climate analysis software and plugins like Ladybug can give you an edge over other Architects in some cases. Some of the software skills commonly required are :
Drafting – Autocad
Modeling – SketchUp, Autodesk Revit, Rhino
Rendering – Vray, Lumion
Presentation and post-production – Adobe Photoshop, Adobe Indesign, Adobe Illustrator
Microsoft Office suite
Strengths and skills Employers look for your strengths and value soft skills that set you apart from the crowd and how you handle meetings with clients and colleagues. Some of the soft skills you can include are:

Communication
Leadership
Problem-solving
Analytical thinking
Negotiation skills
Facilitation skills
Budget planning and cost estimation
Creativity and innovation
Project management
Working within constraints
Working under pressure
Timely submissions
Project optimization
Teamwork and coordination
Common mistakes to avoid:
Neglecting experience- Many candidates limit to mentioning their projects without explaining their contribution and the role they played in the project. This will not inform the employer on your capabilities and what merit you can add to a project. You must understand whoever viewing your resume has no prior knowledge of your experience unless mentioned.
Unnecessary and Irrelevant information – Do not dump information irrelevant to the job you are applying for, this removes the emphasis from what is important. Your resume must be focused, stressing your skills and achievements and showing relevance to you're the job you applied for.
Overuse of graphic design – As much as we like to flaunt our graphic design skills limit them to illustrations and graphical representations in your digital portfolio. Your resume needs to be minimal and focused. Excessive usage of colors can be distracting. If you're trying to experiment with art keep it simple without being extra.
Usage of Cliché phrases – Avoid Cliché phrases that are a given like hard worker, people person, etc.
Grammatical and spelling errors – Proofread your resume for errors using software or get feedback from someone well-versed in the language.
Failing to include Keywords – Use keywords that showcase your knowledge in the particular field of Architecture you are applying to. For instance, if you are trying to apply to a firm focusing on vernacular and sustainable architecture, don't forget to include terms like cost-effective design, life cycle analysis of materials, green building, etc...
A long resume – A long resume can be taxing for the viewer to read and distracts him or her from what matters.
Submitting a resume without a cover letter – A cover letter sums up your professional background in a one-page document of 250 to 400 words. It is to be submitted along with your resume. To know more about writing your Architectural cover letter click here.
Bluffing – Lying about your skills in your resume can be a wreck in your interview