Ever felt your black pen wasn't black enough?
Wonder why even the rough sketch of a professional seems more precise than your emulation of the same. The secret ingredient lies in the tools they use besides their skill set.
Here you will find out what tool is apt for the rookie doodler in you to create archival quality art.
Anyone in the creative field can relate to me, the best of our ideas strike us at the most unlikely times. I log the ideas from this untimely creativity boost using my Sakura Pigma Micron pens. Let's find out why I use these Fineliners and what makes them unique.­
Sakura Color Products Corporation has been successful in producing these Pigma markers since 1982. It's Pigma line pens have been greatly received by people from various fields around the world. The use of these archival quality pens is endless, from being used as tools for doodling to record-keeping in laboratories.
Check prices here for Sakura Pigma Micron Pens on Amazon India.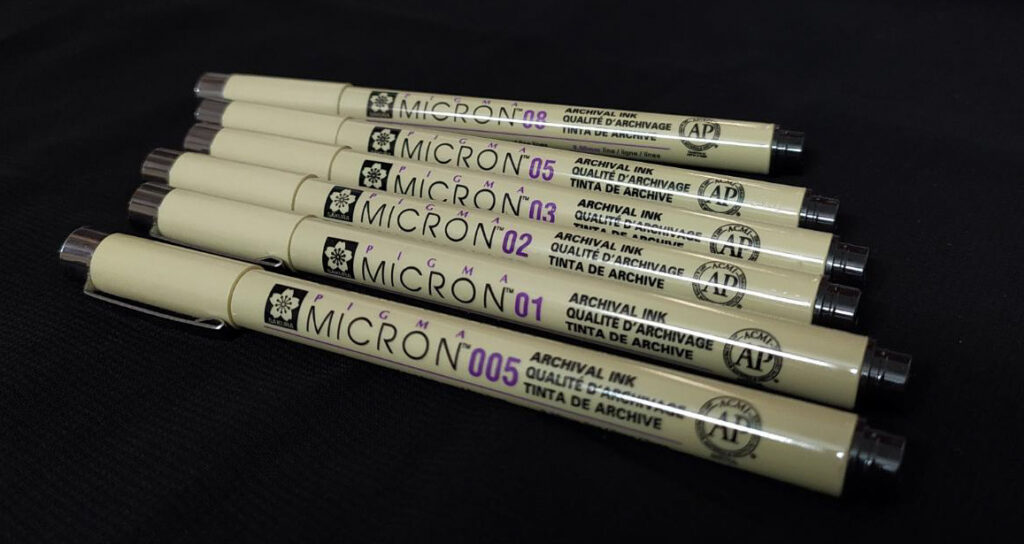 The unique Pigma ink.
Its ink technology makes this Pigma line unique. The ink doesn't bleed through even the thinnest of paper, which was clear when I used it on tracing paper. The technology of this ink makes it waterproof, fade, and smudge resistant in any uncoated paper. They also meet the ACMI (The Art and Creative Materials Institute) non-toxicity standards.
The ink is highly pigmented and its permanence allows for anything documented with it almost impossible to alter making these pens pioneers in water-based pigment ink for years. These needlepoint nibs allow a non-disruptive ink flow, enabling us to create bold continuous lines. They have a 24-month shelf life under ideal conditions unless the nib is damaged, or the cartridge is out of ink.
Usage and application
We can use these pens on any non-coated paper. They are not intended for fabrics and usage on the skin. With fineliners, the durability of the nib is something I consider. The nibs are durable compared to other fineliners, and their lifespan depends on our choice of paper. I use these fineliners on smooth non-textured paper, and they last just as good as any other pen. The nib might not last as long when used on textured sheets or rough surfaces.
The ink flows with no disruption, allowing us to draw continuous and bold strokes. It may take a long time for the ink to dry on glossy papers than on normal papers. They are best for highlighting your watercolor paintings.
These pens are non-refillable and need to be disposed of once the cartridge ink is over. The fine needle-point tips need care and can break off easily if we apply excessive pressure. We must close the pen after using it to avoid dust clogging its nibs and breakage of the nib by falling down.
Fields of use
The Sakura Micron pens cater to a wide range of users. I have seen people use it for scrapbook journals to developing design sketches for high-tech machines.
It is the archival quality of these pens that allows for multiple uses :
record-keeping
documentation in laboratories
curatorial needs in museums
legal documents
logbooks, etc.
We can find artists all over the world on YouTube and social media using it for:
Sketching
Doodle art
Zentangle art
Manga and cartoons
Highlighting watercolor paintings
Stippling (art using dots)
Line drawings, etc.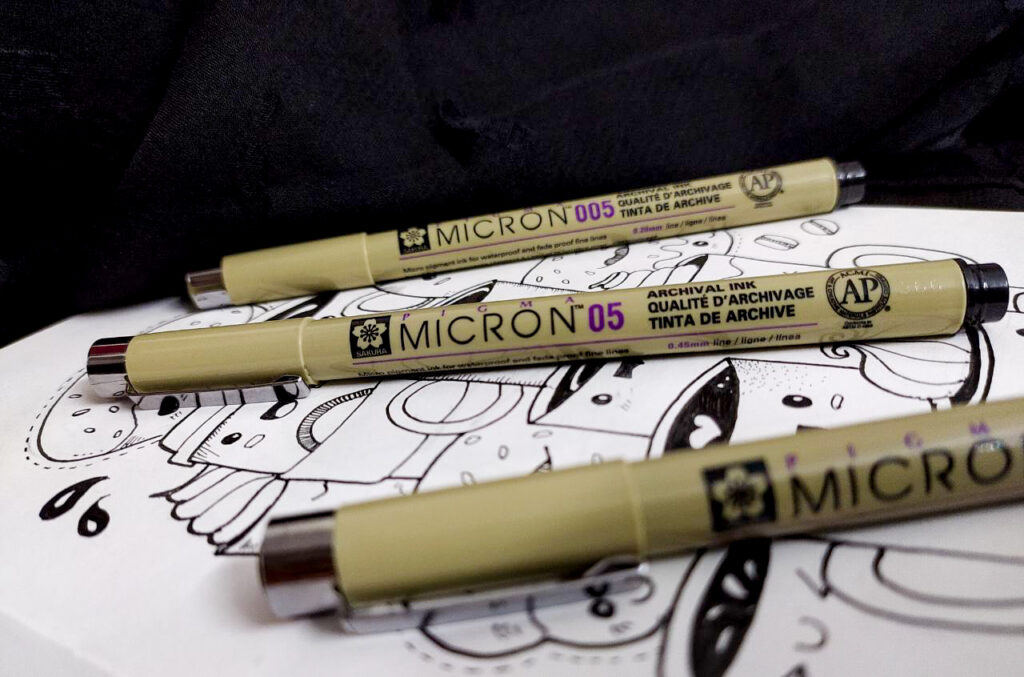 Design and body of the pen
I found these pens very handy as they are light. They have a beige-colored barrel and cap with a black end-plug made up of polypropylene (plastic). The cap of the pen fits well and has a steel clip. The pen nip is made up of polyoxymethylene (acetal plastic), and the nip holder is made up of brass. The pen does not have a rubber grip, which some people might find hard to adjust to.
Nib sizes and colours­
Depending on what we use these for, we need to choose the nib sizes.
Sakura offers us 8 fine nib sizes to choose from, each size corresponds to a line width:
| | | |
| --- | --- | --- |
| S. no | Nib size | Line width |
| 1 | 003 | 0.15mm |
| 2 | 005 | 0.20mm |
| 3 | 01 | 0.25mm |
| 4 | 02 | 0.30mm |
| 5 | 03 | 0.35mm |
| 6 | 04 | 0.40mm |
| 7 | 05 | 0.45mm |
| 8 | 08 | 0.50mm |
The nib sizes and their corresponding line widths.
For stippling and works that involve intricacy, I use their finest nib sizes of 003 and 005. To create bold thick lines, I use 08.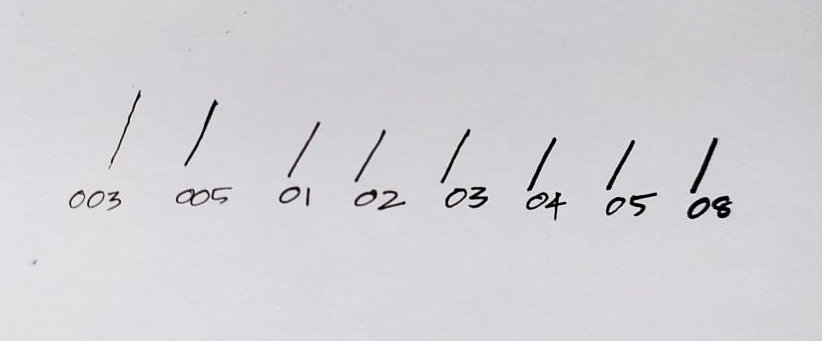 Each color shade has a designated number specified by the Sakura color chart. The Sakura Pigma Micron pens are available in the following 15 colors. :
| | | | | | |
| --- | --- | --- | --- | --- | --- |
| S. no | Sakura Colour Number | Colour | S. no | Sakura Colour Number | Colour |
| 1 | 3 | Yellow | 9 | 32 | Fresh Green |
| 2 | 5 | Orange | 10 | 36 | Blue |
| 3 | 12 | Brown | 11 | 49 | Black |
| 4 | 19 | Red | 12 | 117 | Sepia |
| 5 | 21 | Rose | 13 | 138 | Royal Blue |
| 6 | 22 | Burgundy | 14 | 230 | Hunter Green |
| 7 | 24 | Purple | 15 | 243 | Blue Black |
| 8 | 29 | Green | | | |
The Sakura Pigma micron pen color availability as per Sakura color chart.
Conclusion
In the price range of one pen at 80 to 100 rupees, I find the Sakura micron pens worthy compared to others. The features that make me find these pens great over other Fineliner brands is that it is durable, handy, and doesn't dry out easily.
Being a student architect, I have a lot of writing and sketching to do for my designs. Their waterproof ink was a significant advantage as I didn't have to redo my night's work over spilled water that would normally destroy my work. I also didn't have to bother switching over pens while writing and drawing. They are ideal for both.
I would recommend these pens to anyone who is looking for good fineliners at a reasonable price.
Where to buy?
These pens are available as a set of different nib sizes or separately.
Check prices here for Sakura Pigma Micron Pens on Amazon India.
Happy sketching!