This could be the next great style in architecture, according to Patrik Schumacher.
Wonder why your professor rejects your concept of fluidity in form, but a similar Zaha Hadid design is bagging awards? We all failed to answer the question, Why and how the building is going to take shape? How is this latest trend in architecture astounding us with forms defying the conventional laws of architecture? We will find our question answered in this article­.
What is Parametric architecture?
Parametric design is a design approach or method that solves a design problem based on algorithmic thinking and mathematical processes. It allows the manipulation of the relationship between parameters to give suitable responses or forms to choose from as the desired design solution. Parameters are measurable factors that set the conditions for the operation of a system. Advancement in Robotics and technology enables the mass customization of these parametric structures using innovative material and construction technology.
Parametric design is of two types:
Analogous computation
Digital computation.
The living proof of an analogous parametric design is the iconic Sagrada Familia in Spain designed by Antonio Gaudi. An upside-down model of Sagrada Familia was created by hanging weights, and a mirror was placed in the bottom to see how it will look after completion. The force of gravity acting on the strings automatically gave the form of the catenary curves instead of manually determining the effects of parametric equations.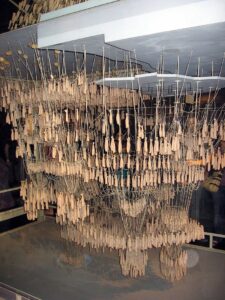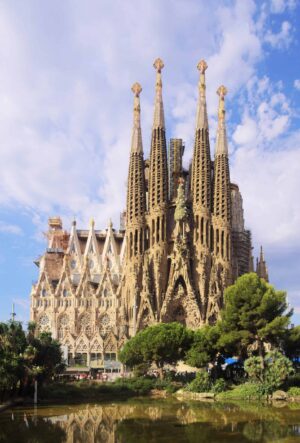 Differentiating computerization from computation
The digital method of parametricism involves the computation of data using advanced modeling tools. We are all familiar with the computerization of design, where we digitize our design into 2D drawings and 3D models. Many confuse computation with computerization. In computation tools, it entitles us with the freedom to set our own rules or manipulate parameters by providing the data for software that runs multiple algorithms to generate forms that conform to all rules and constraints we defined.
The aim of parametric architecture is to establish and intensify the internal interdependencies of elements or parameters within architectural design.
Parametricism–A new paradigm of mass customization
Patrik Schumacher, who coined the term Parametricism in 2008, hails it to be the next great style after modernism. Parametricism is popular among contemporary avant-garde architects. Having a wide influence in both large scale urban design to small scale interior design elements, I consider it more than just a style rather an approach to design.
Parametricism offers two kinds of heuristics, which include both positive and negative principles. Heuristics are a short-cut method of laws or concepts to solve problems. These heuristics distinguish Parametricism from other forms of digital architecture.
1. Functional heuristics–rules on functional spaces.
Negative Principles :

Avoid functional stereotypes (Typical, usual planning of spaces)
Positive Principles :

Developing an interaction between the different spaces, activities, and events.
2. Formal heuristics - rules on the form of the structure.
The Negative Principle

Avoid rigid forms lacking malleability
Avoid collage of isolated and unrelated elements resulting lack of order.
The Positive Principle

Differentiating all systems by gradients, thresholds, and singularities.
Interdependent correlation of all systems.
Parametric building software:
These 3D programs enable visualizing the structure through 3D models, directly showing us any changes that take place with the manipulation of data. Some prominent 3D modeling software for Parametricism include :
CATIA (Computer-Aided three-dimensional Interactive Application)- used by architect Frank Gehry in designing the Guggenheim Museum, Bilbao.
Autodesk 3DS Max
Autodesk Maya
FreeCAD
Rhinoceros when integrated with the following plugins can generate many parametric design solutions.
Grasshopper 3D - parametric form generating tool
Environmental analysis plugins that work with grasshopper 3D
Ladybug–Imports "Energy Plus Weather" files (.EPW) into Grasshopper 3D to guide in form generation.
Honeybee - connects Grasshopper3D to "EnergyPlus", "Radiance", "Daysim" and "OpenStudio" to evaluate the energy consumption of building and daylight simulation.
Geco–Allows collaborating with 'Ecotect' to analyze building performance.
Heliotrope–Solar - Aids in the form's manipulation according to the sun's position.
Structural analysis plugins :
Kangaroo Physics
Karamba
BullAnt
Hummingbird
Mantis
Merits–Why is this trend a global phenomenon?
Gives a great opportunity to explore a variety of exciting free-forms structures. It enables us to explore and push boundaries into an unknown realm through the powers of Artificial intelligence.
Multiple design options to choose from.
Easy construction documentation
Provides advantages in later stages of the design process for automation of building construction documents from models, reducing the need for manual. As a result, it reduces human labor spent on tedious design exploration by reducing the money spent.
Well-defined budget projection
Due to its consideration of parameters that can govern the entire design, parametric design is financially well-defined, providing architects with a high degree of control over the cost of their project.
Facilitates easy client discussion
Since software makes the design flexible and ready to accommodate changes, it enables architects to communicate easily with clients and respond quickly to their suggestions and demands.
Energy efficiency and Parametricism–KAPSARC
The construction industry is responsible for over 1/3rd of global energy consumption. This makes it crucial to keep energy efficiency in mind when designing. The King Abdullah Petroleum Studies and Research Center (KAPSARC) designed by Zaha Hadid Architects with Arup engineering is one such example.
They designed its form to minimize solar gain and enclose self-shading courtyards that cool by prevailing desert winds. The massing and orientation of the buildings, along with the use of self-shaded courtyards, provided natural daylight. It has LEED Platinum certification and shows a 40 percent reduction in its energy performance. They optimized the glazing for low solar gain. Other building services and equipment were also tailored for energy saving.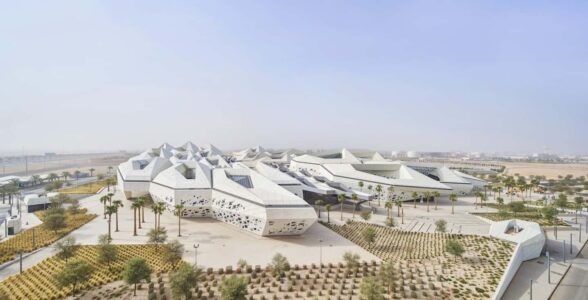 Functional sustainability through parametric architecture
Designing a maximum yet efficient space usage algorithm will prove useful for property developers in the construction of apartments and commercial complexes.
Attaining excellent internal acoustic qualities by the form itself.
Thus, we can manipulate all tangible parameters to give different results.
Demerits of Parametricism
The novelty of software and AI
Most software is designed keeping in mind a traditional workflow alignment but allows for more process thinking. We explore these new tools before using them for designing, as they don't have a methodological frmework for design.
The need to have an additional form analysis software
All form generating software requires an additional software form analysis. The challenge lies in establishing a link between the two software.
Unnecessary complexity with too much information
Complex parameters and information need detailed attention and require powerful computer systems.
Skilled software consultants and labor
The wide prospects of parametric demands specialist software consultants to manage and aid in the development of the design. This is one of the key reasons most architecture firms don't adopt Parametricism. Skilled labor to handle such complex construction methods and equipment for the same are not readily available.
Subjective intangible parameters like user behavior can't be evaluated as it considers the personal background of each user.
The irony is that while parametric software can design by defining cost constraints, most structures built by avant-garde architectural firms have high production costs. Given the current economy of India, most people would argue that it is a dire waste of money.
Parametricism in today's India.­
Parametricism and its heuristics may not prove successful in today's Indian economy when basic housing is the need of the hour for most people. But digital computation can prove effective in planning our cities to create interesting and efficient spaces to cater to a large population. Facades, roofs, small-scale structures, and interior design in India are witnessing a steady growth in Parametricism. One fine example of Parametric architecture in India is the Chhatrapati Shivaji Terminal 2 airport in Mumbai designed by Skidmore, Owings, and Merill.
Conclusion
While few architects believe Parametricism could be a style of its own creating a massive paradigm shift in architecture, others believe that a style does not emerge because of technical innovation alone and needs to have deep roots like a global movement. In my opinion, it is evolving into an architectural style that is astonishing us with its uniqueness however its suitability varies with context as many countries lack the monetary means to use such artificial intelligence modeling techniques on a large scale. A parametric approach to design imbibing vernacular architecture can act as a bridge that connects technology while educating future generations on native vernacular architecture.