Set foot in India on a leprosy mission, discovered an alternative style in architecture, and died an Indian citizen. This is the story of an English born Indian architect, Laurie Baker.
Being a staunch follower of Gandhi, he gave a novel way to perceive architecture through his Gandhian philosophy. With the motto "If you don't need it don't build it" his unique style stands testimony for himself. This article talks about the design principles of 'The Gandhi of architecture', Lawrence Wilfred Baker. A man who reformed a lifestyle through his craft.
Laurie Baker–A doctor, an architect, a minimalist.
Laurie Baker moved to India to cater to leprosy patients and put his architecture knowledge to use when the need for hospitals arose. Many hospital projects came his way as he understood the role patients' surroundings play in their healing process.
In the 1960s architecture saw modernism take the world by storm. The growth in materials and construction technology led many architects to create expensive buildings, Baker turned towards sustainable, cheap, comfortable, and efficient construction.
While many architects were denouncing old techniques and methods, Laurie Baker did not fall into the trap of doing away with old techniques just because they were old. Baker adopted traditional construction techniques combined with modern design principles wherever necessary. Using locally sourced materials produced aesthetically unique low-cost buildings that kept the cultural identity of Kerala.
Would you believe me if I said an architect built homes in just a few 1000 rupees? The tribal houses built by Laurie Baker in the forests of Kerala are still standing examples.
Hailed as the architect of the poor Laurie Baker twisted the long misunderstood stereotype that architects are accessible to only a class of people. His cost-effective sustainable architecture resulted from his observation of existing vernacular building techniques of Kerala when his English education failed to its context.
His humble resource-conscious architecture reflected the down to earth amicable human being that he is known to be. His cost-effectiveness and efforts to make architecture accessible to the common man gave him the title 'The Gandhi of architecture'. Though he was awarded the meritorious Padma Shri by the government of India and was nominated for the Pritzker prize, he considered being awarded Indian citizenship his biggest achievement. He inspired a generation to accept that beauty doesn't have to come with extravagance.
Laurie Baker's Design Philosophy
Baker is a man of simplicity who practiced what he preached. He wore khadi and visited the site and gave hands-on explanations to the labor there. His buildings were timeless and have stood post floods, earthquakes, etc in Kerala.
Never give up on your ideology
Laurie Baker took up projects that only did justice to his ideology and accepted design briefs he was confident of carrying throughout. He refused to accept briefs that encouraged extravagance and falsehood in construction, he always wanted to remain true to principles.
"I have my own principles, which I am unwilling to abandon. I dislike falsehood and deceit. The building should be truthful"

Laurie Baker
Study your site
Baker himself studied the site conditions, soil, topography, drainage, existing trees, rocks, neighborhood context, Services, etc. to identify positive elements and problems that may arise and derived effective solutions for the same. He never compromised natural elements for his design and instead designed according to the site's natural elements.
Architecture for all
He never built identical buildings and believed in the building's uniqueness as unique as the client he built it for irrespective of money and size of the project.
"I never build for classes of people- high income, middle income or low-income groups, tribals or fishermen. I only build for a Matthew, a Bhaskaran, a Muneer or a Sankaran."–Laurie Baker
Environmentally sensitive buildings
He studied the locally available material; the energy invested in the material manufacture, transport, cost, construction techniques, and labor before every design. Avoiding energy-intensive materials, he consciously used natural resources and despised showing off or unnecessary extravagance. Efficient construction is not one for the poor, rather something that needs to be adopted by all.
Honesty in design
Baker's innate honesty is well reflected in his buildings. They were true in their material usage, design, construction, cost, etc. He reminded himself to design with full conscience and to accept his mistakes. He was determined to not fall prey to the then-current fashionable gimmicks, nor did he design to show off. He reminded himself to question his prejudices.
He had immense faith in his principles and stuck to them but did not fail to acknowledge and respect other's opinions. He did not resort to depending completely on the national building codes, instead; he reminded himself that they were advisory and listed the mandatory rules to be followed.
If you don't need it, don't build it
Keeping himself updated with knowledge on the latest technology helped him to understand if they were better than or worse than his conventional ways. He built nothing he felt was not a necessity. He also tried his best in convincing his clients for the same. Sometimes he was seen convincing his clients to settle for lesser rooms than that was asked of him to design, explaining that they were unnecessary and would be a waste over the years. He avoided wastage by keeping his labors, equipment, expenses, and materials to a minimum.
'The Brick Master of Kerala' - The design ideas of a cost-conscious pioneer
Masonry, Walls, and Windows
exposed brick walls punctuated with holes and simple windows
Jali walls (a perforated brick screen) creating light and shadow allowing natural ventilation.
He laid his bricks using a 'rat trap' bond which uses 25 percent fewer bricks than usual with a cavity between the wall surfaces
Curved walls enclose more volume at a lower material cost than straight walls.
Plastering was considered unnecessary and liked bare brick surfaces.
The doorstep had separate spaces for milk bottles.
Simple windowsills were designed to double as bench surfaces
Roofs
The roofs had irregular, pyramid-like structures, with one side open and tilting toward wind flow.
Use of traditional sloping roofs with terracotta tile shingling with gables and vents that allow hot air to escape.
He used thin concrete roof and filler slabs. Filler slabs replace unproductive concrete with filler material like terracotta, pots, etc. This reduces the weight of the slab, further reducing the reinforcement and cost. They also provide better thermal insulation.
Materials
Brick, terracotta tiles, Mangalore tiles, stones, mud walls, timber, less concrete
Reusing metal scraps, bicycle spokes for windows.
Use of low energy-intensive materials
Site
Baker's design method is one of improvisation, his initial drawings have only an idealistic link to the final construction, with most design choices and alterations being made on-site by himself.
Working with non-identical sites and minor alterations of the same allowed for variegation in Baker's works.
Dug up soil was used in another part of the site and not shifted outside the site.
His respect for nature lets the site inform him of his design choices. No contour was marred nor a tree uprooted. This saves the cost of construction, as working around on the site is difficult and costs more.
Passive cooling techniques
Baker's resistance to addressing environmental issues using technology that ignored natural methods led him to create natural cooling systems. By placing a high jali wall near a pond, the difference in air pressure draws cool air inside the building. Eg: The Center for Development Studies, Trivandrum.
These buildings had a temperature difference of 3 degrees from the outside.
Structural sustainability
Using arches or domes over openings negated the need for beams and lintels.
Famous works
Welthy Fisher's Literacy Village, Lucknow
Latur Earthquake Proof Housing Project
Tsunami-proof Housing Project
Hamlet–Baker's residence
Center for Developmental Studies, Trivandrum. Etc.
Chengalchoola Slum Rehabilitation Colony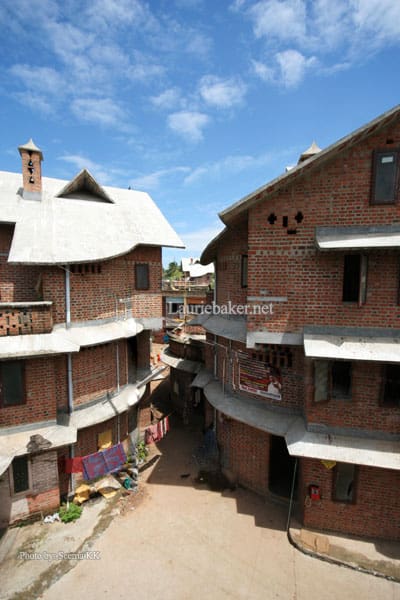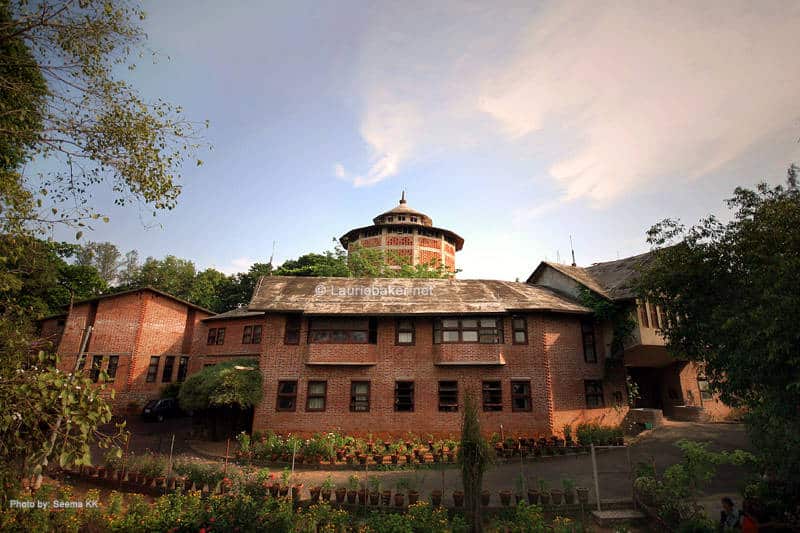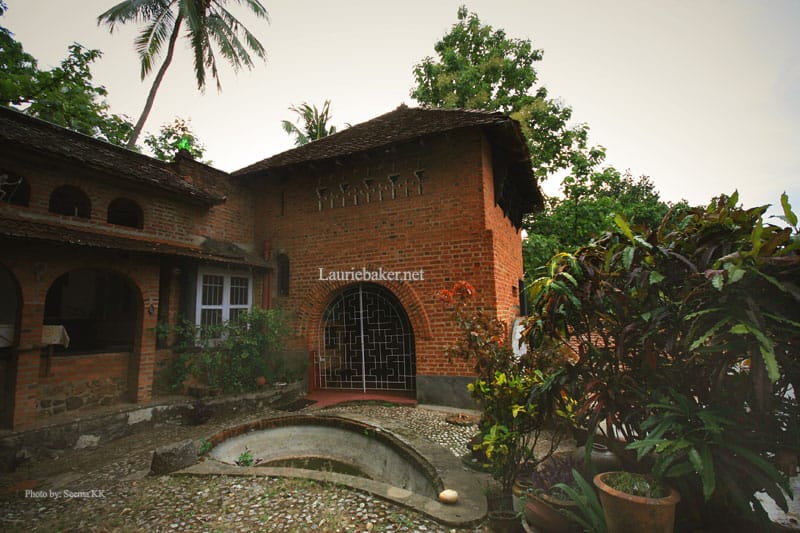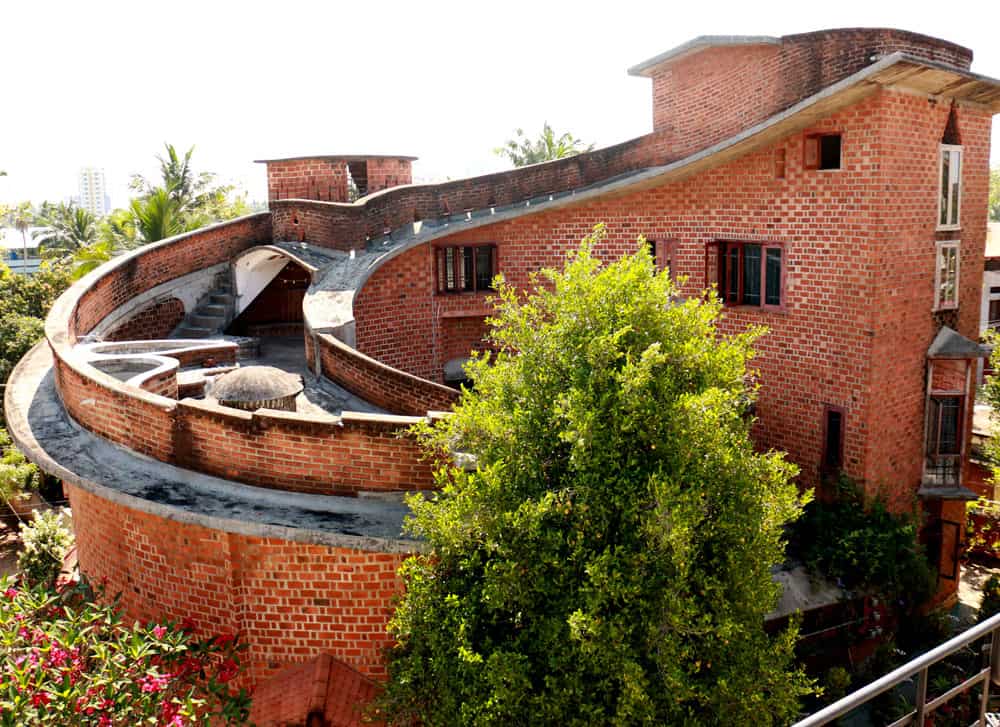 Conclusion
Every region needs a Laurie Baker. He propagated sustainability when it was not a topic of interest. It was for efforts of architects like Baker that passive design techniques did not fade away from the face of architecture, leaving expensive tech-oriented design the only solution.
His climate-responsive buildings that stand against the test of time serve as enough proof to the many critics who said his buildings wouldn't last. Schools of architecture should emphasize cost-effective construction as much as luxury and creativity are given importance.
It is the job of an architect to extend his creativity under various site and design restraints. Though Baker's techniques may not prove effective in all situations, his approach and principles can redefine architecture anywhere in the world.